Welcome to Elegant Machine Quilting,
and thank you for your interest! My name is Kathy Noble and I have been quilting for over thirty years. Fifteen years ago I decided to purchase a Gammill Classic Quilting Machine, which is a completely hand-guided laser quilting system.
As we look forward to the New Year, let's get motivated and energized to complete all those unfinished projects! Of course, we need to start new projects, be inspired to try new techniques and as always, look for that special fabric to add to our stash! I've recently added several new pantograph designs that may encourage you to complete your quilt, or begin a new one! Click "Available Designs"
to see my current designs along with my new ones.

For many, many years now, I have enjoyed talking, emailing and meeting with so many of you. Thank you for giving me the opportunity to machine quilt your treasured quilts! I've received quilts from as far as the West Coast, (Texas, California, Arizona and Washington) to Maine, Vermont and of course, Massachusetts.I can honestly say that your workmanship and creativity are endless. It is a joy to see so many quilts and styles from all over this great country. Thanks!

Currently my turn-around time for completing a quilt runs about 3-4 weeks from the time I receive a quilt. Please note: Christmas is a very busy time for quilters, so to insure you receive your quilt by Christmas, the last day I accept orders for Christmas quilts is November 1st.

Click to email Elegant Machine Quilting!
My goal is to provide the finest quality custom long-arm quilting for quilters who love to create quilts through design, piecing and sewing the quilt tops, but don't have the time or space to do the quilting by hand. I keep my machine in a smoke-free setting, and I'd love to help you finish your quilts.

Most quilts are finished using a lovely "meandering" pattern, but I can also use one of the many designs illustrated on the Designs Page.
Click on the links below to see my pricing, get information about how to prepare your quilt for machine quilting, and to print an order form. There's also a page with my contact information.

If you have suggestions or questions, please contact me.

Elegant Machine Quilting of Chicopee, Massachusetts --

New England serving America through cyberspace!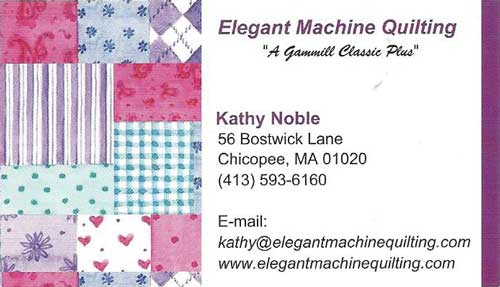 Copyright 2003-2022 Elegant Machine Quilting (413) 593-6160